Annika Ringle
During her years as a fine art student at Abilene Christian University and for the past twelve years, Annika has been a creator of worlds. Her viewers are invited into these worlds, where they can climb, trudge, traverse and toil through the paintings she calls "journeys." Sometimes dark, sometimes hopeful, the paintings always continue from left to right, and the abstracted figures placed in these landscapes could be any of us. With rich and moody colors, these images are subtly beckoning the viewer to insert themselves into the journey, participating or commiserating with it. These journeys are meant to speak to everyone, as it represents not only the physical and spiritual, but also the ups, downs, toils, and triumphs of life.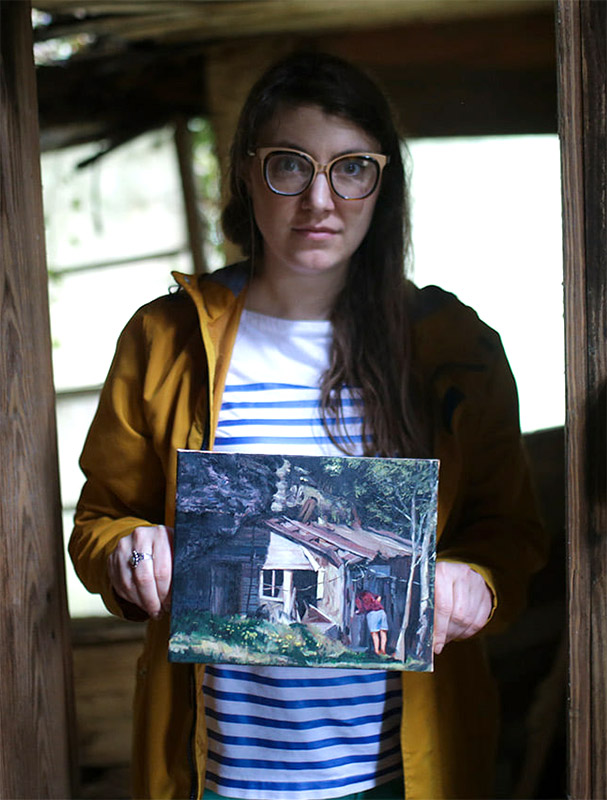 In more recent years, Annika has taken this exploration of journey (and in some ways, displacement), and turned it on its head, delving into what it means to belong somewhere and to be rooted to a place. Her figures have taken on more detail and small lives of their own, and the landscapes have tightened. These new characters now belong in their moments and in their worlds in whatever form that may take. Some landscape scenes are even painted empty, as if someone just left there, infusing the scene with a sense of presence or spirit — even if no figure is visible.
This idea of belonging has taken an interesting turn into the macabre, and Annika sees abandoned objects and derelict buildings as having their own sense of place and belonging in the world. How these objects settle, decay, and disintegrate is the idea behind some of her latest works. Roaming the hills of Northwest Arkansas where she calls home, Annika is always seeking out the forgotten places: barns, houses, derelict buildings that exist in their own small bubble of decay.
Annika currently works from her studio in Northwest Arkansas where she also lives with her innumerable houseplants, two cats, Caetano and Wolfie, and photographer boyfriend Charlie.