Come Join the Creative Community of NWA
ANA offers the chance to become part of a community of artists who support one another while growing the visual arts in Northwest Arkansas. It's your chance to get support from other artists, recognition from art lovers and collectors, and to have fun! We'd love to have you join us!
Benefits of ANA Membership
Be a part of a network of artists throughout the Northwest Arkansas region
Enjoy monthly educational opportunities
Have your own Artist Profile page on the website
Take advantage of opportunities to share your work and get feedback
Experience location art trips
Get access to professional workshops
Participate in member only shows at the ANA Gallery
Gain news and Information about local events and art events in NWA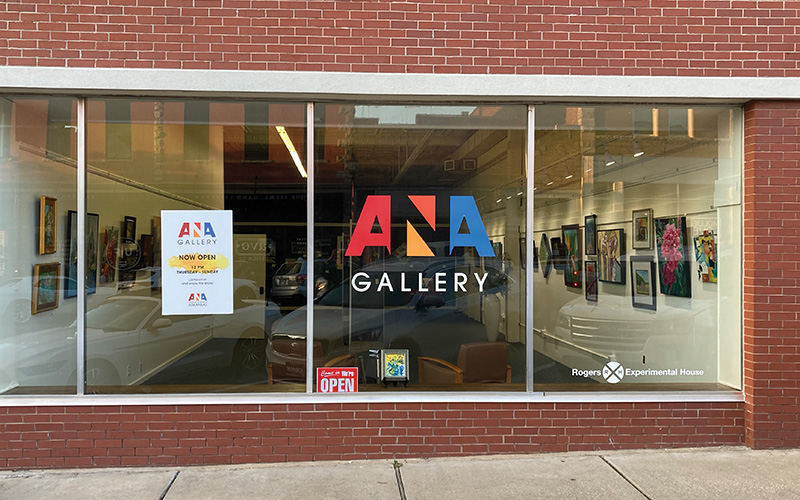 How to Join ANA
It's easy to join ANA. There are no qualifications necessary to join and you have two ways to pay.
Yearly dues are $35 for an individual, $40 for a family, and $15 for students with ID. All dues are due January 1 of each year.
Please fill out this online MEMBERSHIP FORM and send a check payable to:
Artists of Northwest Arkansas
P O Box 3268
Fayetteville, AR 72702
Click on the button below to fill in your information and pay with a credit card.
2023 ANA Membership
Click the alphabetical section below to see if you are a current member of ANA. If you can not find your name and you have your dues after 10/01/2022, please contact us at contact@artistsnwarkansas.com so we can check and update our records. If you haven't paid this year and want to participate in the show and events this year – see How to Join ANA above. This list includes only individuals that have paid online.
A
Aclin, Mary Kay
Avenoso, Jae R.
B
Barber, Margaret
Barta, Kathleen
Bartlett Clark, Rose
Bass;er, Doug
Bolain, Corey
Booher, Rebecca
Borders, Janet
Borne, Scott
Brack, Joan
Brewer, Teri
C
Carpenter, Judy
Carpenter, Sonny
Carleton, Connie
Christenson, Becky
Clancy, Phyllis Marie
Collins, Mary Gayle
Correll, Margaret
Correll, William
Cooper, Carol Williams
Counce, Carol
Cox, Elizabeth
Crane, Bob
Creek, Turpentine
Cribbs, Tim
D
Daily, Mary Yvoone
Dark, Stan
Dastoor, Stacie
Dastoor, Rubin
Davis, Annessia
Davis, Marcia
Dey, Anupriya
Dickson, Tracy
Drumm, Jennifer
Dugger, Jillian
Durgan, Maxey
Dushan, Terry
Dyer-Johnson, ZaAnna
E
Edgmon, Susan
Edmondson, Annie
Elderidge, L.S.
Ellen, B.J.
F
Farish, Doug
Farrell, Karolyn
Ferris, Mark
Fawley, Ty
Fletcher, Karlena
Floyd, Rosie
Floyd,  Dave
Flickinger, Marcy
Fogleman, Barton
Foster, Laurie
Fowler, Scott
Foxx, CJ
G
Garner, Renee
Garner, Kim
Garnette, Mary Anne
Gavin, Peter
Gibson, Nancy
Gilmer, Beverly
Gilmer,  Bobby
Grau, Julie
H
Hadlock, Joseph
Haines, Virginia
Hanson, Donna
Harshbarger, Diana
Hart, Carol
Hatley, Gerald
Hawkins, Rachel
Heath, Marion
Hefley, Carla
Hill, Dana
Holcomb, Jessie
Hudson, Judy
Huckins, Marye Jones
Hunter Wade, Leona
J
Johnson, Dana
Johnson, Jim
Johnson, Apryl
Jones, Aaron
K
Kaijo, Charlie
Keever, Amy
Kellar, Cheryl
Kellar, Brian
Kellett, Charlotte
Kelley, Joe Ray
Key, Marilyn
Kissee, Roseanne
Kissee, Rob
Kissee, Cluck
Kranz, Nadene
L
Laney, Brenda
Logan, Lois
Lovato, Rich
M
Maas, Jake
Maas, Julie
Maness, John
Mangold, Jim
Markus, Kathleen
Maurer, Judy
Molesso, Tim
Molina, Martha
Miller, Willis
Milton, Melissa
Molina, Martha
Moore, Denise
Morton, Yvonne
Morton, Billy
Mullenax, James
N
Nemec, Carla
Noland, Debbie
P
Padzuikas, Paul
Parkerson, Victor
Parry, Michael
Partin, Jan
Paxson, Andrew
Passmore, Amy
Pereira, Eloa Jane
Perkins, Tommi
Powers, Ann
R
Reel, Carol A
Ringle, Annika
Robins, Karen
Rochelle, Helene
Rogers, Ginette
S
Sagan, Denise
Sandler, John
Sandore, Audrey
Scott, Diana
Shearon, Diana
Sheets, Carol
Siegfried, Kathleen
Simmons, Alan
Smay, Jennifer
Smith, Timothy
Studer, Patricia
Sweeden, Pat
Sweet, Raymond M.
T
Talbert, Mary
Taylor, Robin
TenHaken, Jeremy
Tilman, Ronald
Tipton, Leslie
Torres, Miranda
W
Walker, Jenny
Walter, Carolyn
Weiss, Jennifer
White, Maria
Wiles, Holly D.
Williams, Dusti
Become a Friend of ANA
We would love to have you join in our creative community even if you are an artists in heart. We are all creative souls and look for ways to express ourselves in many ways.
Join our community below.
ARTIST PROFILE PAGE
Create your own artists profile page.
Each member of ANA can have a page of the website that has a short bio, samples of work, contact info, and social media links.
If you would like to be listed on the artist page, click here. We will we will email you a link to the Profile Form.
Get the Latest News & Updates
Stay up-to-date with art news in Northwest Arkansas by staying connected with ANA. It's FREE so just fill in your contact information and receive the latest about what's happening near you!