ANA offers several ways to be involved including opportunities to show your work in local and regional shows, being featured as our artist of the month and attending monthly membership meetings. Our goal is to support your artistic goals.
ANA GALLERY – NEW HOURS:
Starting June 1, 2023 the ANA Gallery at the Rogers Experimental House will be open 6 days a week. The new hours are 1 pm – 5 pm, Tuesday through Sunday. We are changing our hours to better serve the public, patrons, and our ANA membership.
ANA September Membership Show
It's time for our Fall in NWA Show.
September 5 – September 28, 2023
August Reception: September 14, 2023
Time: 4:30 – 7:30 pm

ANA Gallery @ the Rogers Experimental House
121 W. Walnut Street • Rogers, AR 72756
It's still a little hot outside, but keep art coming. The September Exhibition has over 170 pieces of art from all across NWA by 70 ANA artists. These include paintings, drawings, photographs, digital art, pastels, woodworks, sculptures, stained glass, mosaics, and table top displays. Come see the amazing works that ANA artists and NWA is producing.
Pick up your 6×6 canvases for the 6×6 Auction!
REFLECTIONS II
ANA Gallery Group Exhibit at Fenix Arts
An exhibition of the ANA Gallery Group and Fenix/ANA Members
Fenix Arts Gallery: August 24 – September 30, 2023
Opening Reception: Sept 7, 2023
Time: 5:00 pm – 8:00 pm
150 N Skyline Drive
Mount Sequoyah, Millar Lodge
Fayetteville, AR 72701
Join the ANA Gallery Group and Fenix Arts artists that are also members in the Artists of Northwest Arkansas for an end of summer exhibition. Each artist offer an array of reflections, each as unique as the artist who created it. We hope you enjoy the show and encourage you to share reflections that you take away.
Intermediate Watercolor Class I:
Creating pastoral landscapes using atmospheric color
September 16, 2023
12:00 Noon – 4:00 pm
Gerald 'Scout" Hatley
ANA Gallery@ Rogers Experimental House
121 W. Walnut St • Rogers, AR
This is the first class in intermediate watercolor with an emphasis on landscapes. We will use the fundamental techniques and skills as developed in the introductory course previously offered to create effective perspective and depth in peaceful scenes utilizing basic color theory as experienced in real world applications.
September Artist Presentation
Gary Johnson
Thursday, September 21, 2023
ANA Gallery @ the Rogers Experimental House
121 W. Walnut Street
Rogers, AR 72756
1:00 – 3:00 pm
Free and open to the public.
ANA Social Paint Night
Tuesday, September 26, 2023
5:00 – 8:00 PM
FREE
ANA Gallery @ the Rogers Experimental House
121 W. Walnut Street • Rogers, AR 72756
Bring whatever artwork you're working on or start something new. We are setting up tables in the big room or bring your easels and come paint or work with us. We will all work together for the evening and visit amongst ourselves. You can discuss what you are working on and find inspiration and support in the group setting. We'll have some finger foods and wine of course.
This is an event that you can mark on your calendar – the 4th Tuesday every month is Social Paint Night.
ANA December Membership Show &
3rd Annual 6 x 6 Auction
December 5, 2023 – January 5, 2024
Art Drop-off: December 1 – 2
Opening Reception: December 14th
Time: 4:30 pm – 7:30 pm
WATCH FOR MORE DETAILS
ANA Gallery @ the Rogers Experimental House
121 W. Walnut Street • Rogers, AR 72756
See what's happening around NWA.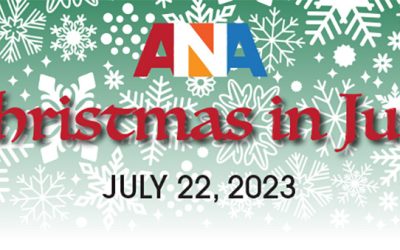 Christmas in July Ho! Ho! Ho! It's Christmas in July for ANA! Saturday, July 22, 2023 Santa came to town for our Christmas in July party on July 22, 2023. It was a wonderful success and everyone had a great time. We want to thank everyone that helped make this such a...