ANA offers several ways to be involved including opportunities to show your work in local and regional shows, being featured as our artist of the month and attending monthly membership meetings. Our goal is to support your artistic goals.
JULY/AUGUST GALLERY GROUP EXHIBIT
Thursday – Saturday • 10 am – 6 pm & Sunday • 12 pm – 4 pm
ANA Gallery @ RXH
Features artworks of Becky Christenson, Stan Dark, Terry Dushan, Carol Hart, Gary Johnson, Judy Maurer, Melissa Milton, Annika Ringle, Kathleen Siegfried, Pat Sweeden, Jeremy TenHaken, and Justin Williams.
JULY MONTHLY MEETING
July 15, 2021 • 1:00-3:00 pm
ANA Gallery @ RXH
Joe Stewart – Finding Your Voice in Art
Using honest critiquing to sharpen your work and your mind.
Positives of preliminary practicing
Our brains are sponges, be mindful of what you're sucking up. "Garbage in, garbage out."
Watercolor Abstract Workshop
Monday, August 2 – Thursday, August 5, 2021
Gary Johnson – Instructor
Sequoia United Methodist Church
1910 N. Old Wire Road
Fayetteville, AR
9:30 – 3:30 daily.
Learn to paint abstract watercolors by taking Gary Johnson's workshop. Gary gives tips, tricks, and design criteria on painting abstracts in a fun filled 4 days. No stress, no errors, no fuss, just good approaches to abstract as well as useful techniques that can apply to painting landscapes, florals, etc. MORE INFO
AUGUST MONTHLY MEETING
August 19, 2021 • 1:00-3:00 pm
ANA Gallery @ RXH
Stan Dark – Get Ready to Hang in the Gallery
We will look at the best way to prepare your artwork to hang properly in the ANA Gallery and the RXH.
SEPTEMBER ANA MEMBERSHIP EXHIBIT
Sept 9 – 30, 2021
ANA Gallery @ RXH
This show is open to all members of ANA. More details to come.
See what's happening around NWA.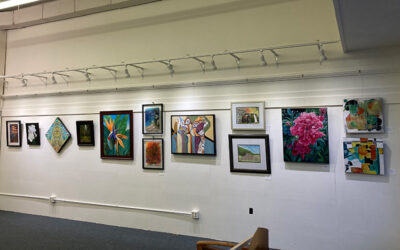 Ready for a LIVE Art Show? We have kicked off 2021 with a bang! Artists of Northwest Arkansas has a new home. The ANA Gallery is now open. June Membership LIVE Show at the ANA Gallery. We are pleased to announce that the ANA have a new home at the Rogers Experimental...