PAINTING ROCKS, STONES AND PEBBLES
Jo Gilmer
Date: October 21st
Place: Rogers Experimental House
Time: 1:00-3:30 pm
Open to: ANA Members and the Public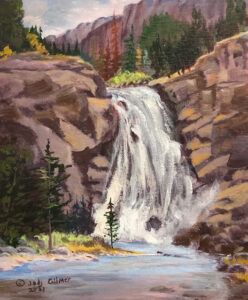 Jo Gilmer calls herself a "self-made" artist. Born in Prairie Grove, raised in Springdale and graduated from Farmington High, Jo says she was always drawing. Asked what she likes to paint, Jo responds, " I can paint anything…people, animals, florals and landscapes—but not abstracts!".
For her demonstration, Jo will be using acrylics but will also explain how to paint rocks using watercolors. She will bring a number of finished pieces that show different techniques and finishes.
*PLEASE REMEMBER TO BRING A SAMPLE OF TWO OF YOUR OWN WORK TO SHARE WITH US BEFORE JO BEGINS HER DEMONSTRATION.