Stacy Spangler – Presenter
September 16, 2021
1 pm – 3 pm
ANA Gallery @ RXH (common area)
Snacks and drinks provided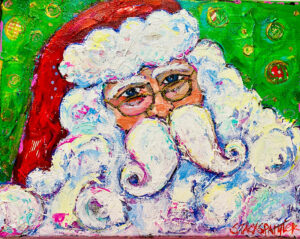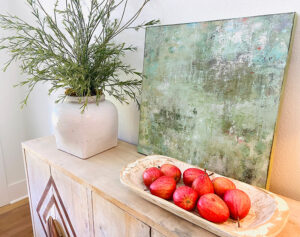 Stacy and her husband, Shannon, currently live in Goshen, and have three daughters, two dogs and a cat. Stacy has loved creating for as long as she can remember, and grew up in a family where crafting, coloring and cooking were the norm for entertainment. She was greatly influenced by her Grandmother, an amazing quilter, who would let her use her sewing machine for hours on end, to design and sew Barbie dolls clothes and mini quilts; and her Aunt, an avid crafter and artist, who taught her how to have fun using her imagination while drawing and coloring.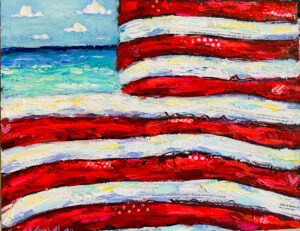 After graduating with a degree in Advertising and Public relations from the University of Arkansas, Stacy moved to Little Rock and worked in Corporate marketing until the birth of her first child. It was then that she started experimenting with oils, hand painting furniture and painting art for her own home. To help supplement their family income, Stacy started teaching art to a small group of her daughter's friends in the empty storage room under their home. Eventually the room was converted to a studio classroom and grew into a thriving business with art camps all summer long, homeschool classes during the day and after school classes throughout the week. She taught art to children and adults from her home studio from 2007 until she moved back to NWA in 2015 and decided to take a break from teaching and try her hand at painting and selling her own art.
Stacy considers herself a self taught mixed media artist, and is known for her use of bright color, multiple layers, heavy texture and collage elements
in her art.
"As a self taught artist, I love the experimentation process and feel my style is constantly evolving. While I use mainly acrylics, you will always catch glimpses of a variety of other elements in my artwork.I enjoy the use of bright color, contrasting values, heavy texture and collage. I use my hands, brushes and a palette knife to build up multiple layers of paint, papers and acrylic medium, resulting in a heavy distressed texture. I naturally bring a simplistic, light-hearted and whimsical spin on everyday objects, whether flowers, animals or bicycles.My playful style has been greatly influenced by over a decade of teaching art to children. I learned so much from watching children create-they have no fear in the creative process and have so much fun!"
In her spare time, she enjoys biking, reading and spending time cooking and entertaining her family and friends. Her original artwork, prints and paper goods can be found at local brick and mortar shops around the South, and online at www.stacyspanglerart.com. You can connect with her on Facebook and Instagram @StacySpanglerArt, and view her online classes at www.stacyspanglerart.podia.com.
Stacy will be sharing some ways to incorporate texture into art. She will do a short demonstration of some of her favorite texture techniques, give an overview of her most used supplies, and allow participants to experiment with texture by creating their own small sample of textured art.